Consumers Rush to Lock in Mortgage Rates ahead of Bank of Canada Rate Hikes
9/12/2017 | SHARE
Posted in Mortgage News by Anabela Serra | Back to Main Blog Page
The number of Canadians who applied for a fixed-rate mortgage in August saw a substantial spike, with 59.31% of users on the LowestRates.ca website opting for a fixed-rate mortgage over variable.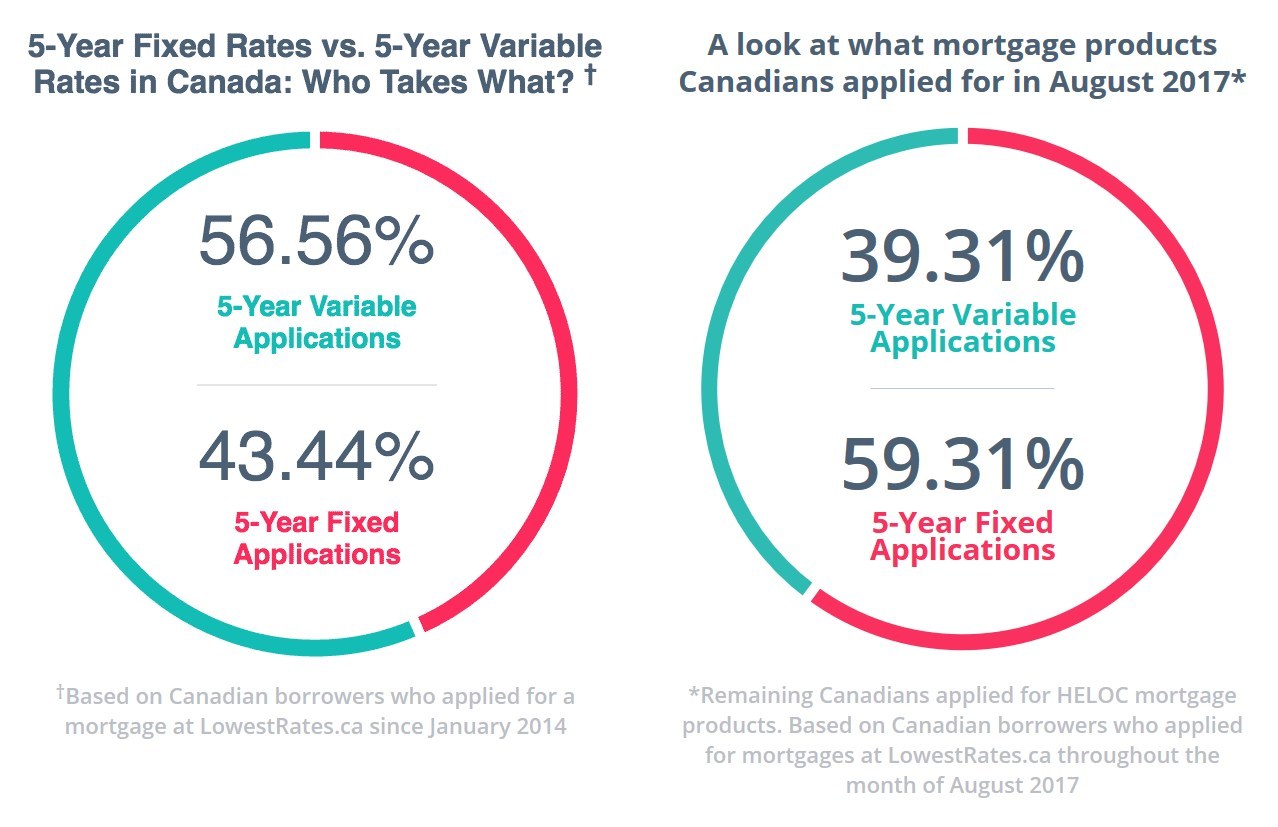 Historically, the majority of Canadians who shop for mortgage rates on LowestRates.ca opt for variable-rate mortgages. Since January 2014, 56.56% of users have gone variable, compared with 43.44% of those who go fixed. The shift in August is seen as a reaction to the Bank of Canada's decision to raise interest rates. On July 12, the bank hiked rates by 25 basis points — the first upward move since 2010. Rates were again raised another quarter of a percent on September 6.
"It's important for consumers not to panic," said Justin Thouin, co-founder and CEO of LowestRates.ca. "Data over the past 30 years shows that Canadians have saved more money on interest by going with a variable rate, rather than a fixed-rate mortgage."
"Yes, a BoC rate hike means your mortgage payments go up if you have a variable-rate mortgage. And this causes some Canadians to overreact and do anything they can to switch to a fixed-rate mortgage," Thouin adds. "Doing this might buy you peace of mind if the thought of rising interest rates keeps you up at night. But based on the past 30 years, staying in a variable rate mortgage is still the right choice in the long run if your goal is to pay as little interest as possible."
Understanding The Impact of Rate Change
If a consumer purchases a home for $750,000 (with a down payment of 10 per cent amortized over 25 years), at a five-year, variable rate of 1.95 per cent, they would have a total monthly mortgage interest payment of $1,096.88 (keep in mind, this does not include additional costs such as mortgage insurance, principal payment or property taxes). If the Bank ofCanada increases its overnight rate by 25 basis points, that homeowner's monthly interest payment on their mortgage would be $1,237.50 — an increase of $140.62 per month.
That same homeowner using a fixed mortgage rate — the most competitive fixed product on LowestRates.ca last month was 2.63% — would have a total monthly mortgage interest payment of $1,479.38. While they can lock in that rate for five years, they're still spending $241.88 a month more in interest compared with the variable product even after variable rates go up. That's $2,902.56 a year in increased costs!
"Analysts have a wide range of opinions as to how many additional increases the BoC will make over the next 18 months, but until there is a substantial increase, the impact will be not that extreme," says Thouin.
Source: Newswire
Fixed Rate Mortgages, Home Buyers, Mortgage Consumers, Mortgage Rates Canada, Mortgage Refinancing, Mortgage Trends, Mortgages & Real Estate, Variable Rate Mortgages
Thinking of buying or selling a property, or have a question regarding the real estate market? Fill out the form below and I'll get back to you promptly.